September 2016 Newsletter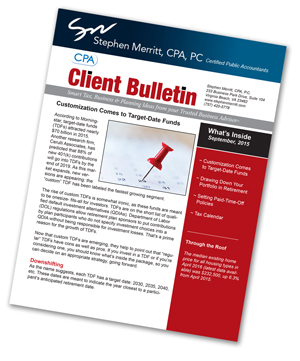 September 2016 Newsletter [PDF]
Customization Comes to Target-Date Funds
According to Morningstar, target-date funds (TDFs) attracted nearly $70 billion in 2015. Now that custom TDFs are emerging, they help to point out that "regular" TDFs have cons as well as pros. If you invest in a TDF or if you're considering one, you should know what's inside the package, so you can decide on an appropriate strategy, going forward. Learn more in our September Newsletter.
Drawing Down Your Portfolio in Retirement
For many seniors, tax-efficient withdrawals require two levels of decisions. First, should the dollars come from regular taxable accounts or from tax-deferred accounts such as IRAs? Second, regardless of where the money is coming from, how will a portfolio be liquidated to provide spending money?
Setting Paid Time-Off Policies
Offering time off may help to attract and retain valued employees. For business owners, the key is to develop a policy that provides flexibility and downtime without harming the company's productivity. Learn more in this month's newsletter.
September, 2016 Tax Calendar
Use our handy Tax Calendar for important dates and reminders.