Employment ~ CPA Position Open in Virginia Beach
---
Job Title: Certified Public Accountant (CPA)
Job Summary: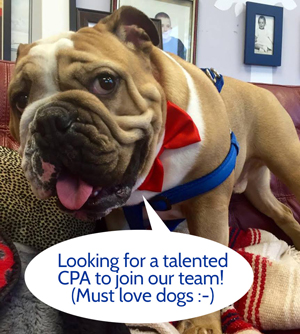 Public accounting firm located in Virginia Beach, VA is in search of a CPA for a SEASONAL, PART-TIME OR FULL TIME position, depending on the candidate. CPA must be able to multi-task and possess exceptional interpersonal and communication skills. Prior public accounting experience is required.
Stephen Merritt, CPA, PC is NOT your typical CPA firm! Clients are always commenting how fun it would be to work here, and that's because we value our staff's ideas; we offer professional development programs; and we place a high priority on an ideal work/life balance (no take-home work!). We also LOVE to laugh and eat good food. We are a close-knit group, so a candidate must be able to integrate into our office environment. Candidate must also love dogs! Louis, our mascot, comes in to work every day.
Primary Responsibilities:
Compile and analyze financial information to prepare entries to accounts, such as general ledger accounts, and document business transactions.
Establish, maintain, and coordinate the implementation of accounting and accounting control procedures.
Monitor and review accounting and related system reports for accuracy and completeness.
Prepare and review budget, revenue, expense, payroll entries, invoices, and other accounting documents.
Analyze revenue and expenditure trends and recommend appropriate budget levels and ensure expenditure control.
Resolve accounting discrepancies.
Tax Return Preparation 990, 1040, 1041, 1120S, and 1065.
Audits, reviews, compilations.
Interact with internal and external auditors in completing audits.
Meet and establish relationships with new and existing clients
Other duties as assigned.
Position Requirements:
3+ years of experience in public accounting.
CPA Certification with extensive tax preparation experience
Detail oriented
Hold an accounting degree or equivalent
Successful candidates must demonstrate EXCELLENT COMMUNICATION and analytical skills coupled with proficiency in Quickbooks, Microsoft Excel and Word, as well as tax preparation software. In addition, an ability to work independently or as part of a team and the capacity to appropriately interact with all levels of Firm management and staff, clients and other external business contacts are required.
Full, part-time, or flexible schedules are available. We are proud to offer competitive compensation based on candidate's experience.
Email Resume
Fax: (757) 420-5381
Health/dental benefits available.
Our office is a smoke-free environment
Candidates are preferred to be a Hampton Roads Southside resident as we are a Virginia Beach Office, and punctuality is an expectation.
Only serious inquiries need to send resume.