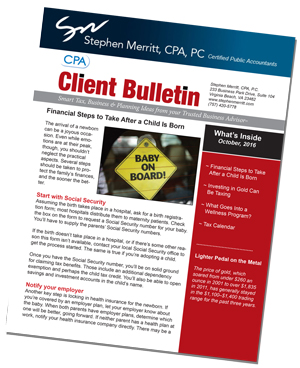 October 2016 Newsletter [PDF]
Financial Steps to Take after a Child is Born
The arrival of a newborn can be a joyous occasion, but don't neglect the practical aspects. Several steps should be taken to protect the family's finances, and the sooner, the better.
Investing in Gold Can Be Taxing
Investment asset classes include precious metals, especially gold. If you decide to allocate some investment dollars to gold, there are many options to choose. The tax treatment can vary, depending on how you invest, and you may be unpleasantly surprised.
What Goes into a Wellness Program?
A 2016 report from the Society for Human Resource Management found that 78% of surveyed businesses offered wellness benefits to their employees. It's true that wellness programs are most common in large corporations, but small companies can also offer these benefits and reap the advantages. Learn more in this month's newsletter.
October, 2016 Tax Calendar
Use our handy Tax Calendar for important dates and reminders.