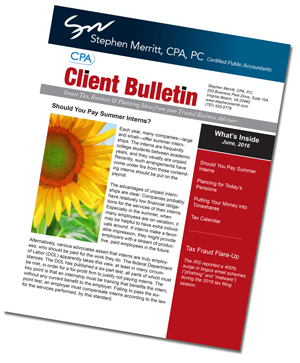 June 2016 Newsletter [PDF]
Should You Pay Summer Interns?
Each year, many companies—large and small—offer summer internships. The interns are frequently college students between academic years, and they usually are unpaid. Recently, such arrangements have come under fire from those contending interns should be put on the payroll. 

Planning for Today's Pensions
Millions of people have a form of pension that kicks in after age 70½. At that age, required minimum distributions (RMDs) typically begin from retirement plans, such as traditional IRAs and 401(k)s. With proper planning, RMDs can serve as a long-term pension and also provide benefits to a surviving spouse.
Putting Your Money into Timeshares
Does it make sense to buy a timeshare? Negative opinions are easy to find, and there's little doubt that high-pressure sales pitches may lead to some bad decisions.Nevertheless, millions of Americans own timeshares. Surveys indicate that purchasers tend to be well educated, with comfortable incomes. Can so many capable and accomplished people all be wasting their money?
June Tax Calendar
Use our Tax Calendar for important dates and reminders for June of 2016.