January 2020 Client Newsletter

Stephen Merritt, CPA, PC  |  Certified Public Accountants  |  (757) 420-5778
233 Business Park Drive, Suite 104, Virginia Beach, VA 23462
---
What's Inside:
Protect Yourself- Tax Scams
Checklist to Stay Safe from Scams
Happenings at SMCPA: Tax Season Begins!
Tax Calendar
Protect Yourself from Tax Scams
There are many tax scams out there with the purpose of stealing your identity, stealing your money, or filing fraudulent tax returns using your private information. Tax scammers work year-round, not just during tax season and target virtually everyone. Stay alert to the ways that criminals pose as the IRS to trick you out of your money or personal information.
IRS-Impersonation Telephone Scam
An aggressive and sophisticated telephone scam targeting taxpayers, including recent immigrants, has been making the rounds throughout the country. Callers claim to be employees of the IRS, but are not. These con artists can sound convincing when they call. They use fake names and bogus IRS identification badge numbers. They may know a lot about their targets from information gathered from online resources, and they usually alter the caller ID (caller ID spoofing) to make it look like the IRS is calling.
If the phone is not answered, the scammers often leave an urgent callback request. Victims are often told they owe money to the IRS and it must be paid promptly through a pre-loaded debit card or wire transfer. If the victim refuses to cooperate, they are then threatened with arrest, deportation, or suspension of a business or driver's license. In many cases, the caller becomes hostile and insulting. Alternatively, victims may be told they have a refund due to try to trick them into sharing private financial information.
Phony IRS Emails — "Phishing"
Scammers copy official IRS letterhead to use in email they send to victims. Emails direct the consumer to a web link that requests personal and financial information, such as Social Security number, bank account, or credit card numbers. This practice of tricking victims into revealing private personal and financial information over the internet is known as "phishing" for information.
The IRS does not notify taxpayers of refunds or payments due via email. Additionally, taxpayers do not have to complete a special form or provide detailed financial information to obtain a refund. Refunds are based on information contained on the federal income tax return filed by the taxpayer.
The IRS never asks people for the PIN numbers, passwords, or similar secret access information for their credit card, bank, or other financial accounts. If you receive an email from someone claiming to be from the IRS and asking for money, take the following steps:
• Do not reply to the email message.
• Do not give out your personal or financial information over email.
• Do not open any attachments or click on any of the links. They may have a malicious code that will infect your computer.
• Forward the email to the IRS at phishing@irs.gov.
• Delete the email.
Checklist to Stay Safe from Scams
Here are eight ways to stay safe this tax season:
1. Personal information should not be provided over the phone, through the mail, or on the internet unless the taxpayer initiated the contact or is sure s/he knows who s/he is dealing with.
2. Social Security cards or any documents that include your Social Security number (SSN) or individual taxpayer identification number (ITIN) should not be carried around.
3. Do not give a business your SSN or ITIN just because they ask — provide it only if required.
4. Financial information should be protected. Do not give out any financial information over the phone or via email.
5. Credit reports should be checked yearly.
6. You should review your Social Security Administration earnings statements annually.
7. Protect personal computers by using firewalls and anti-spam/virus software, updating security patches and changing passwords for internet accounts.
8. Report any instances of tax scams to the IRS.
If you have any questions about any situations that come up, please know we're here for you; just ask!
Happenings at SMCPA:
It is that time of year again – Tax Season! Louis is ready to file his taxes, are you? Louis can't wait to see everyone during tax season.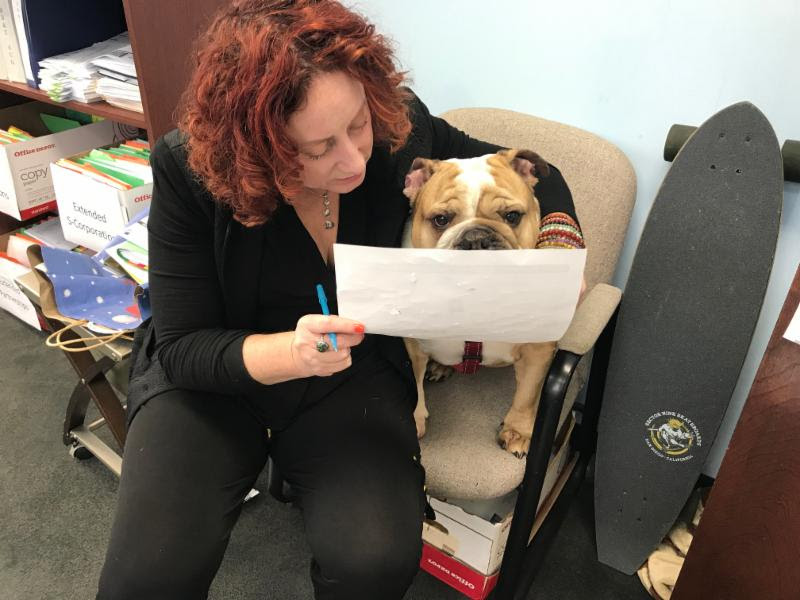 Tax Calendar
JANUARY 2020
January 10
Employees who work for tips. If you received $20 or more in tips during December, report them to your employer. You can use form 4070.
January 15
Individuals. Make a payment of your estimated tax for 2019 if you didn't pay your income ta for the year through withholding (or didn't pay in enough tax that way). Use form 1040-ES. This is the final installment date for 2019 estimated tax payments. However, you don't have to make this payment if you file your 2019 return (Form 1040 or Form 1040-SR) and pay any tax due by January 31, 2020.
All businesses. Give annual information statements to recipients of certain payments you made during 2019. You can use the appropriate version of Form 1099 or other information return.
All Employers. Give your employees their copies of Form W-2 for 2019 by January 31, 2020. If an employee agreed to receive Form W-2 electronically, post it on a website accessible to the employee and notify the employee of the posting by January 31.
Social Security, Medicare and withheld income tax. If the monthly deposit rule applies, deposit the tax for payments made in December 2019.
FEBRUARY 2020
February 18
Individuals. If you claimed exemption from income tax withholding last year on the Form W-4 you gave your employer, you must file a new Form W-4 by this date to continue your exemption for another year.
All businesses. Give annual information statements to recipients of certain payments you made during 2019. You can use the appropriate version of Form 1099 or other information return. Form 1099 can be issued electronically with the consent of the recipient. This due date applies only to the following types of payments. • All payments reported on Form 1099-B. • All payments reported on Form 1099-S. • Substitute payments reported in box 8 or gross proceeds paid to an attorney reported in box 14 of Form 1099-MISC.
February 28
All businesses. File information returns (for example, certain Forms 1099) for certain payments you made during 2019. These payments are described under January 31, earlier. However, Form 1099-MISC reporting nonemployee compensation must be filed by January 31. There are different forms for different types of payments. Use a separate Form 1096 to summarize and transmit the forms for each type of payment. See the General Instructions for Certain Information Returns for information on what payments are covered, how much the payment must be before a return is required, which form to use, and extensions of time to file. If you file Forms 1097, 1098, 1099 (except a Form 1099-MISC reporting nonemployee compensation), 3921, 3922, or W-2G electronically, your due date for filing them with the IRS will be extended to March 31. The due date for giving the recipient these forms generally remains January 31.